Students' Culture House
Str. December 1, 1918, No. 81;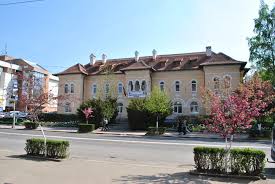 Tel. 0254/542 032
web: ccspetrosani.ro
The main activity of Students' Cultural House of Petrosani is organizing and conducting the cultural, artistic, educational, sports and fun activities, especially for students.
It operates as a students' culture house from 1989, having before the status of a student club of the University of Petrosani.
At the Students' Culture House in Petrosani there are a number of artistic groups, clubs, workshops representing the institution at local, regional, national and international various events where it is involved:
# Decorative and plastic arts workshop
#"Parângul" Artistic Ensemble – sections: folklore, modern dance, break dance
# Pop music singer
# Traditional music soloists
# Folk singers
# Rock bands
# Photography Club
# Mountaineers Club
# Chess Club
Artistic groups, clubs and workshops of the institution ensure its permanent activity through daily rehearsals and meetings. However, Students' Cultural House also organizes temporary events – artistic creation camps, exhibitions, performances, competitions etc. and participates in activities organized by other students' houses at local, regional, national or international events.
Diplomas got at various occasions, the annual cultural projects subsidized by higher structures, local actions carried out with their own income highlight the variety of activities organized by the institution and also the participation of its representatives at countless events.